Our Priests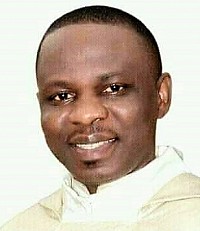 Rev Fr Hyacinth Igwenagu OGBODO C.S.Sp.
Parish Priest
Fr. Hyacinth Igwenagu Ogbodo, C.S.Sp. is a priest of the Congregation of the Holy Spirit, British Province. Raised to the order of priesthood in the year 2003, he served in these capacities while in Nigeria: Assistant Parish Priest from 2003 to 2007, and as Parish Priest from 2008 to 2017 in the Archdiocese of Lagos.
Fr Hyacinth also served in his order, the Congregation of Holy Spirit in Nigeria, first as a member of the Provincial Council (Provincial Leadership Team, PLT) and later as the Provincial Superior of the Congregation, Province of Nigeria South West, for two mandates of three years each.
At the expiration of his second mandate as Provincial Superior he was sent to the United Kingdom. While in the UK he served at St Mary Magdalene RC Church Brockley as the assistant Parish Priest and at St John Fisher RC Church Kidbrooke as Parochial administrator.
Archbishop Peter Smith has appointed him to succeed Fr Josephat Ezeanolue C.S.Sp. as the Parish Priest of Our Lady of Grace Charlton with effect from 1st September 2018.
Fr Eduardo Ushe C.S.Sp 
Fr Eduardo Ushe C.S.Sp is a member of the Congregation of the Holy Spirit. He was ordained in 2007. He has served in several capacities including Assistant Priest (Gboko, Makurdi and Jalingo dioceses), Regional Secretary in the Spiritan Province of Nigeria Northeast for 3 years, Parish Priest (Lafia, Yola and Pankshin dioceses), Chaplain to the Nigerian Law School, Yola Campus; Chaplain to Yola Prison, Chaplain to the National Association of Catholic Corps Members (NACC) Adamawa Chapter, Principal of St Mary's Secondary School, Yola, the Chairman of National Association of Proprietors of Private Schools, Yola Local Government, and the Dean of Yola Deanery in Nigeria.
He recently arrived from Israel to the United Kingdom on Sabbatical in 2019, and has served as Assistant Priest in St. Thomas More Parish, East Dulwich, English Martyrs Parish, Walworth, St Thomas the Apostle Parish, Nunhead (all in the Catholic Archdiocese of Southwark). Then SS Mary and Modwen Parish, Burton-on-Trent (in the Catholic Archdiocese of Birmingham). He is currently the Assistant Priest in Our Lady of Grace Parish, Charlton, and the Chaplain RC in Queen Elizabeth Hospital, Greenwich with effect from September 1, 2021.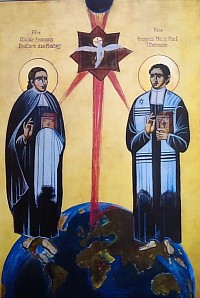 SPIRITAN FOUNDERS
Claude-François Poullart des Places, 1679-1709
Francis Mary Paul Libermann, 1802-1852
Claude-François Poullart des Places, the founder of the Holy Ghost Fathers, was born in 1679 into a well-off aristocratic family at Rennes in Brittany and was given a good religious and secular education by the Jesuits. At the age of 20, having graduated with honours in Law and with a good marriage lined up by his family, He felt called to the priesthood and left all this security behind to follow the uncertain search for God.
He began his studies in the College of Louis le Grand in the Latin Quarter of Paris. He had no shortage of funds, but soon discovered that some students were living in crushing poverty, and decided to help one of them. One thing led to another: he left his comfortable lodgings to live with ten destitute scholars, sharing their extreme poverty, and begging on their behalf for leftovers from the kitchen of his old college.
Aged 23, he founded the Community of the Holy Spirit to give these penniless future priests a training that was better and longer than their contemporaries. In return he asked that they would commit themselves to accepting the most difficult tasks where others refused to go. They referred to themselves as Spiritans, the name we still proudly carry today.
At the age of 29, his identification with the poor reached its completion. During the exceptionally hard winter of 1709, he gave everything he had to the others and succumbed to the epidemic that hit Paris and was buried in a pauper's grave. In serving the poor, he became the poorest of all, giving himself totally, not just for humanitarian reasons but above all, in imitation of Jesus. Shortly after his death, his small congregation was given the task of training and supplying priests for the French colonies in the Caribbean and the Indian Ocean, and so a commitment to overseas Missions began.
In 1848, a new missionary Congregation founded by Francis Libermann, a convert Jew from Saverne, was united with the foundation of Poullart des Places to form The Congregation of the Holy Ghost and the Immaculate Heart of Mary. While continuing with the training of priests for overseas, this new Religious family concentrated on sharing the message of Jesus with those who had not yet heard it, above all, the people of Africa.
Libermann encouraged his followers "Do not preach about God's Love, but show it by how we live. Listen to their needs and dreams, and help them achieve them." This finds us working in education, farming, development, technical training and social work, helping communities and society to become self sufficient and self respecting. Today we number around 3,000 members, half of whom are from Africa and elsewhere in the southern hemisphere, working in 65 countries around the world.
We continue to be asked to go "where others will not go, and do the work that others do not want." We continue to live and work according to the vision of Des Place and Libermann. We thank God for the countless blessings he has given to our family over the last 312 years. We will continue to go where others will not go and help the disadvantaged and victims of the world to find self respect and self sufficiency.
Today in the UK we number 49 with communities in London, Manchester, Salford, Chester & Carfin, Scotland. We serve parishes in London (Archway; Charlton; New Barnet & South Norwood), Leicester, West Midlands (Smethwick & West Bromwich), Bakewell /Hassop in Derbyshire, Manchester and the Isle of Man. We also work with schools and Youth through "JustYouth" and "CRISP", and Refugees & Asylum seekers through our organisation "REVIVE", in the Manchester region. In London the "Kairos Community Trust", set up by Spiritan Fr. John Kitchen, cares for those with Drug & Alcohol addiction.
British Spiritans currently work also in Ghana, Nigeria, Angola, South Africa, Australia, and the USA. Worldwide, over 3000 Spiritans work in over 60 countries on every continent.