Parish Organisations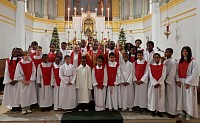 ALTAR SERVERS
Would YOU like to be a server in our parish?
Contact Fr. Josephat if you would like to join.
We would particularly like to encourage former servers to return to service in the church. Are you a former server? Do you attend the Saturday or Sunday evening Mass? Why not serve and assist the priest?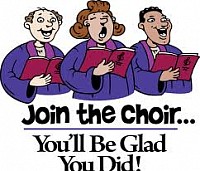 ~~~~~~~~~~~~~~~~~~~~~~~~~~~~~~
Choir / music.
Can you Sing? Want to Sing?
Why not praise God with your voice!
Join the Choir.
If you can talk, you can sing!
Choir practice is held every Friday evening from 6:00 - 7:00; and Sunday morning for the 10.00am Mass at 9.00 am
New members very welcome.
We especially need singers and music leaders
for the Saturday and Sunday evening Masses.
~~~~~~~~~~~~~~~~~~~~~~~~~~~~~~~~~~~~~~~~~~~
Extra Ordinary Ministers of Holy Communion: Contact Fr. Josephat if you wish to help bring the Eucharist to others
We need ministers for the 6:30 Sunday evening Mass. We can no longer offer the Eucharist under both kinds as thare are no ministers attending this mass.
Readers: Do you feel you could proclaim the Word of God? If so please contact Fr. Uche. There is a particular need for readers at the Saturday and Sunday evening Masses. Do you regularly attend them? We would love to have you join the team.
School. Head Teacher: Mr. Sean Small.
[More information on OLG Primary School page of this website]
or go to http://www.ourladyofgracecatholicprimaryschool.co.uk
Childrens' Liturgy - At Sunday 10am mass. Children from 4-8 yrs old –
Please register your child before sending to Liturgy Group.
For further information speak to a member of the Children's Liturgy team
We are always looking for additional helpers.
Contact the Team if you would like to help or join the rota.
Legion of Mary. We meet on Saturday evenings, after the 5:30 Vigil Mass, in the Parish house.
Church cleaning. is carried out on the first Saturday every month. Contact us if you can help.